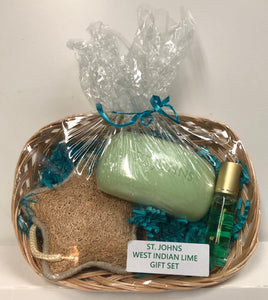 stjohnspice.com
St. Johns West Indian Lime Gift Basket
Regular price
$28.00
$0.00
Unit price
per
Includes St. Johns West Indian Lime Soap (7 oz), a traveler's collection St. John's West Indian Lime Cologne (.25 oz roll-on) and a natural starfish loofah packaged in a small woven tray.
West Indian Lime from St. Johns Fragrance Company blends several citrusy notes, including lime, lemon, bergamot and lemongrass, for a well-balanced, clean aroma. The fresh profile is enhanced by floral notes of lily-of-the-valley, which ultimately gives way to musky, woody accords for longevity and complexity. 
The soap is triple milled in the USA to create a luxurious, creamy and fragrant lather for gentle cleaning in a bar of soap that is sturdy, glossy, smooth and long lasting.  The bar combines olive oil (non-allergenic & cleanses without stripping away skin's natural oils) and glycerin (highly moisturizing).
---